Is the game compatible with Windows Vista and Windows 7,8 ?
Absolutely,
DzWords is fully compatible with Windows XP,ME,2000,Vista, Windows 7 and Windows 8.
Top
What are the minimum requirements ?
Any Windows PC with a video card capable of displaying a resolution of at least 800x600.
Internet connection required to register (first launch only).
Top
What are the dictionaries used by Dzwords ?
DzWords includes 7 English dictionaries (word lists).
The default word list is the "Official SCRABBLE© Players Dictionary, Fourth Edition".
Note that many words in the OSPD will not be found in your standard personal dictionary.
The OSPD is known to include a lot of neologisms and some words of foreign origin.
This may be a bit frustrating at first but keep in mind that this is the word list used in clubs and tournaments.
More information about the OSPD can be found here.
DzWords also includes the SOWPODS word list used in tournament Scrabble in most countries except the USA, Thailand and Canada. SOWPODS info.

New in Dzwords 4: We introduced another word list based on a spelling dictionary. This one contains mostly common words so it may be less frustrating for some players.
Top
DzWords for other Operating Systems ?
An Android version of the game will be released in the first quarter of 2013.
There will be a MAC version somewhere in 2013 and an IOS (Ipad) is planned too.

Stay tuned by subscribing to our newsletter !
Top
Are there any ads or spyware ?
Absolutely not.
We, like you, hate spam and spywares.
The game is 100% spyware free.
Top
Where is the file menu to load or save a game ?
The file menu can be accessed by clicking on the yellow arrow beside the "New game button".
See the picture below.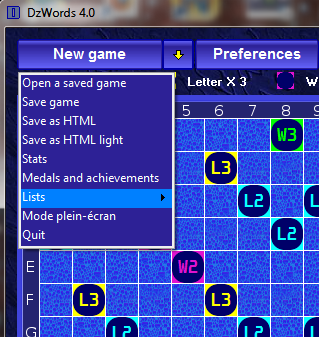 Where are the "advanced search" and "anagram" functions?
These functions are in the menu displayed when you click the yellow arrow attached to the "Dictionary" button.
Top
Is the ordering process totally secure ?
Deligames partners with Fastspring, a leader in safe, secure Internet sales and fulfillment. Fastspring is PCI Compliant and employs Verisign SSL Certificates that meet the highest standard in the Internet security industry for secure transations.
For more information about Fastspring click here.
Top

What payment methods are accepted
Visa®, Mastercard®, American Express®, Discover®, JCB®, PayPal™, bank transfer, check, money order, and purchase order. Payments are accepted in ten major currencies in addition to the US Dollar.
Top
What will appear on my credit card statement ?
FS*DELIGAMES
Top
I need help with the game, what do I do?
Please contact us and we'll gladly help you.
Top
I think I found a bug or a missing feature.
We appreciate the bugs report or requested features. Don't hesitate to contact us and we'll look into it.
Top
I lost the game and my serial numbers, can you help me?
Sure. Please contact us and we'll give you anything you need to get the game again.
Top
Who are you and where are you from?
Deligames is formerly known as DangerZsoft.
I, Eric Pilote, am the owner and programmer of Deligames.
I am from Saguenay, Québec, Canada.
Top